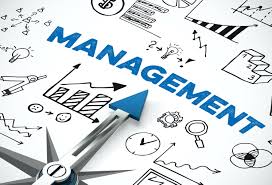 After planning a course of action, managers must organize the company to accomplish their goals, including allocating resources, assigning tasks and establishing procedures. The managerial hierarchy includes top management, the highest level such as the president and other key executives who develop strategic plans. This often includes the chief executive officer (CEO), chief operating officer (COO), chief financial officer (CFO) and chief information officer (CIO), although it has become more commonplace to see companies eliminate the COO position.
The CEO is often also the company's president and is responsible for all top-level decision making, including introducing change to the company. Her tasks include structuring work, controlling operations and rewarding people to ensure that everyone works to carry out her vision. The CFO is responsible for obtaining funds, planning budgets, collecting funds and such. The CIO is responsible to get the right information to other managers so they can make correct decisions, and is more important than ever to the success of the company given the crucial role that information technology has come to play in every business.
Middle management includes general managers, division managers and branch and plant managers who are responsible for tactical planning and controlling. Many middle management positions have been eliminated in recent years due to cost cutting and down-sizing, and the companies have given the remaining managers more employees to supervise. Middle managers are an important role to most businesses.
Supervisory management includes those directly responsible for supervising workers and evaluating their daily performance, and are often known as first-line managers or supervisors.
People are typically not taught to be managers, but due to their skill move up the corporate ladder and become managers. They tend to become deeply involved in showing others how to do things, helping and supervising them, and generally being active in the operating task. The further up the ladder she moves, the less important her original job skills. At the top of the ladder, the need is for people who are visionaries, planners, organizers, coordinators, communicators, morale builders and motivators. A successful manager must have technical skills, human relations skills and conceptual skills.
Technical skills involve the ability to perform tasks in a specific discipline or department; human relations skills involve communication and motivation and enable managers to work through and with people, and also include skills associated with leadership; and conceptual skills involve the ability to see the organization as a whole and the relationship among its various parts. Conceptual skills are required in planning, organizing, controlling, systems development, problem analysis, decision making, coordinating and delegating. First-line managers need skills in all three areas, but spend most of their time on technical and human relations tasks, such as assisting operating personnel and giving directions. On the other hand, top managers need few technical skills and spend almost all of their time on human relations and conceptual tasks. Thus a person who is successful as a supervisor might not be competent at higher levels and vice versa.
Staffing is a management function that includes hiring, motivating and retaining the best people available to accomplish the company's objectives. To get the right kind of people to staff an organization, the company has to offer the right kinds of incentives. Many people will not work for companies where they are not treated well or get fair pay. They may leave to find a better balance between work and home. A company with innovative and creative workers can go from a start-up to a major competitor in just a few years. Staffing has become an increased part of each manager's assignment, and all managers need to cooperate with human resource management to get and keep good workers.
More recently, social media manager has become one of the fastest growing careers. Social media continues to grow in importance as it presents the face and voice of an organization. Social media managers need to be curious, able to adapt quickly, and understand the role social media plays in the organization's goals. They also need skills in writing, graphic and video design, public speaking, customer service and community engagement, behavioral psychology, analyzing social media metrics and budgeting. Being proficient in some of these areas is more important than being strong in all of them.