A secured transaction is a credit or loan transaction in which the borrower agrees to give the lender a security interest in the borrower's property, known as the collateral.  If the borrower defaults, the lender (secured party) can take possession of the property and sell it to recover the value of the loan.  The security interest is a lien on the borrower's property.  These transactions are governed by Ohio Revised Code Chapter 1309.
To protect its security interest, a secured party must "perfect" its lien, which is usually done by filing a financing statement with the secretary of state.  The secured party may sometimes perfect its lien by being in possession of the collateral, however in most situations this is impractical.  There are other complicated exceptions to the filing requirement set forth in the Ohio Revised Code.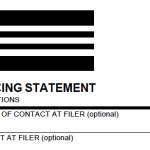 By perfecting its lien, the secured party will be able to enforce the lien in the event the borrower seeks protection from its debts by filing for bankruptcy.  And even outside of a bankruptcy situation, the secured party will want to perfect its lien to protect the collateral from the claims of other creditors.
Chapter 1309 does not apply to mortgages or other interests in land.  Real estate mortgages are governed by Ohio Revised Code Chapter 5301.