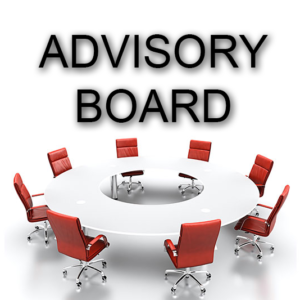 As entrepreneurs, we often keep things close to the vest.  While there are many advantages to this, there are also disadvantages.  Receiving input from unaffiliated experts is an excellent way to create a competitive advantage and move your business forward.  One way to achieve this objective without feeling too vulnerable is through the use of an advisory board.
An advisory board plays a critical role in helping you move your business to the next levels.  Assembling the right group of advisers allows you to glean from others both their success and horror stories.  Having a group of financial, legal, industry, marketing and operational people to provide you with strategic guidance and feedback helps you make better decisions based on their input and experiences.
The advisory board does not serve merely as a sounding board.  It allows you a trusted audience to discuss your thoughts and ideas regarding your business, and also provides you with insight and perspective of professionals with vast experience from different backgrounds.  Since you will share sensitive information with these people, pick advisers you trust, and whose experience and background you value, and be willing to listen to their ideas and suggestions.  The relationships between you and your advisers, as well as amongst the advisers, will grow and strengthen over time, allowing you additional comfort in sharing the details of your business.  The better your advisers know your business, the better their suggestions will be.
Remember, it is still your business and you are still the decision maker.  Having a group of trusted advisers should enable you to make better decisions faster.