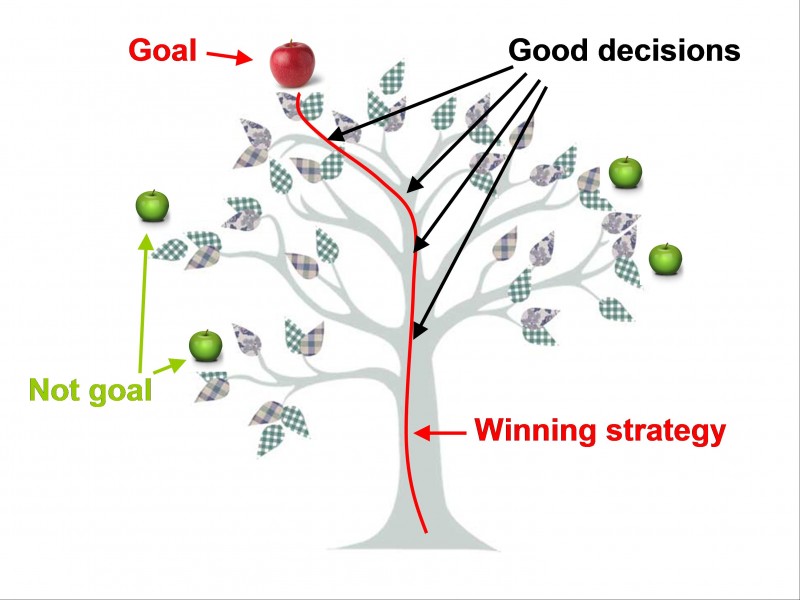 Planning and Decision Making
The number one upper management function is planning – setting the organization's vision, goals and objectives. Planning is often described as an executive's most valuable tool. Let's break it down. It is a continuous process that often follows a pattern, answering several fundamental questions: (1) What is the situation now? This includes a SWOT analysis of the organization's strengths, weaknesses, opportunities and the threats it faces. Often opportunities and threats are external and can't be anticipated, while weaknesses and strengths are typically internal and can be measured and fixed. (2) How can we get to our goal from here? The answer to this question is typically the most important part of planning, and can take one of four forms: strategic, tactical, operational or contingency.
A vision is a broad explanation of why the organization exists and where it's trying to go. It gives the organization a sense of purpose and a set of values that unite employees in a common objective. Top management typically sets the organization's vision, and often works with others to create a mission statement. A mission statement outlines the organization's fundamental purpose, and includes its self concept, philosphy, long-term survival needs, customer needs, social responsibility and nature of the product/services. The mission statement becomes the foundation for setting specific goals and objectives.
Goals are the broad, long-term accomplishments an organization seeks to attain. Setting goals is often a team process, aimed at buy-in from both employees and management. And objectives are specific, short-term statements detailing how to achieve the organization's goals.
Strategic planning is done by top management and determines the organization's major goals, along with the policies, procedures, strategies and resources it will need to achieve them. Policies are broad guidelines for action, while strategies determine the best way to use the resources. In strategic planning, top management decides which customers to serve, when to do so, what products or services to sell, and the geographic areas in which to compete, but it is important for them to engage those with potentially the best strategic insights, their employees. In today's rapidly changing environment, strategic planning is becoming more difficult because changes are occuring so fast that plans quickly become obsolete. The idea is to be flexible and responsive to the market, allowing for quick responses to customer needs and requests.
Tactical planning develops detailed, short-term statements about what is to be done, who is to do it, and how it is to be done, and is typically a function of lower level managers. Operational planning is the setting of work standards and schedules needed to implement the company's tactical objectives. It focuses on specific supervisors, managers and employees, and is the manager's tool for daily and weekly operations. Contingency planning prepares alternative courses of action the company can use if its primary plans don't work. In our ever-changing environment it is good practice to have alternative plans of action ready. Crisis planning is part of contingency planning and anticipates sudden changes in the environment. Rather than creating detailed strategic plans, the leaders of companies that respond quickly to changes in competition or other environmental changes often simply set a direction. They want to stay flexible, listen to their customers, and seize opportunities, expected or not.
Decision making means choosing among two or more alternatives, and is at the heart of all management functions. The rational decision making model is often followed to make intelligent, logical and well-founded decisions. Its six steps are as follows:
Define the situation
Describe and collect needed information
Develop alternatives
Decide which alternative is best
Do what is indicated (begin implementation)
Determine whether the decision was a good one, and follow up
Sometimes, however, managers have to make decisions on the spot and can't go through this six step process. Problem solving is less forman than decision making and usually calls for quicker action to resolve everyday issues. Problem solving techniques include brainstorming, coming up with as many solutions as possible in a short period of time with no censoring of ideas, and PMI, listing all of the pluses for a solution in one column, all the minuses in another, and the implications in a third, with the goal to make sure the pluses exceed the minuses. Both decision making and problem solving require managers to use their best judgment.