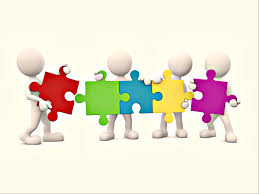 Sometimes a person can be a good manager but not a good leader, and vice versa. Managers work to produce order and stability, while leaders embrace and manage change. Leadership is creating a vision for others to follow, establishing corporate values and ethics, and transforming the way the organization does business, in order to improve its effectiveness and efficiency. Good leaders motivate workers and create the environment for them to motivate themselves. Management carries out the leader's vision.
Leaders must communicate a vision and rally others around that vision. She should be open and sensitive to the concerns of followeres, give them responsibility and win their trust. To be a successful leader, she must influence the actions of others.
Leaders must establish corporate values, including concern for employees, customers, the environment, and the quality of the company's products. When a company sets its business goals, it is also defining its values. The number one trait others look for in a leader is honesty, followed by the leader being forward looking.
Leaders must promote corporate ethics, including an unfailing demand for honesty and an insistence that everyone in the company be treated fairly. Ethical decision making is a key component of leadership.
Leaders must embrace change. The leader's most important job may be to transform the way the company does business so that it is more effective and efficient, doing things better with fewer resources to accomplish the same objectives.
Leaders must stress accountability and responsibility. Leaders need to be held accountable and to feel responsible for their actions. A key word is transparent, presenting the company's facts and figures in a way that is clear and apparent to all stakeholders.
Organizations need both leaders and employees who can help lead. Any employee can motivate others to work well, add to the company's ethical environment, and report ethical lapses that may occur. There is no one set of traits that describe a leader, nor is there one leadership style that works best in all situations. Some of the more effective leadership styles include autocratic, participant (democratic) and free-rein leadership.
Autocratic leadership means making managerial decisions without consulting others. This style is effective in emergencies and when absolute followership is needed. This form of leadership is also sometimes effective with new, relatively unskilled workers who need clear direction and guidance. The participant (democratic) leadership style involves managers and employees working together to make decisions. Employee participation in decisions may not always increase effectiveness, but it usually increases job satisfaction. Organizations that value traits such as flexibility, good listening skills and empathy often favor the participant style of leadership. Employees meet to discuss and resolve management issues by giving everyone some opportunity to contribute to decisions. And in the free-rein style of leadership the managers set objectives and allow employees freedom to do whatever is appropriate to accomplish those objectives. This style is most successful in organizations in which managers supervise professionals, such as doctors, engineers and others. The traits managers need in such organizations include warmth, friendliness and understanding. There is a trend of more companies adopting this style of leadership with at least some of their employees.
Leadership is a continuum along which employee participation varies, from purely boss-centered leadership to employee-centered leadership. The best style for any particular organization depends on what its goals and values are, who is being led, and in what situation. For example, a manager may be autocratic but friendly with a new trainee, democratic with an experienced employee, and free-reining with a trusted long-term supervisor. There is no such thing as a leadership trait that is effective in all situations, or a leadership style that always works best. As such, a successful leader in one organization may not be successful in another. A truly successful leader has the ability to adapt her leadership style to what is most appropriate to the situation and employees.
Historically many organizations used the directing process of leadership, whereby leaders gave explicit instructions to workers, telling them what to do to meet the organization's goals and objectives. This often included giving assignments, explaining routines, clarifying policies, and providing feedback on performance. Organizations that may still use this model include fast food restaurants and small retailers, where the employees do not have the skill or experience to work on their own, at least at first. More progressive leaders empower employees to make decisions on their own, giving employees the authority to make a decision without consulting the manager, and the responsibility to respond quickly to customer requests. Managers often resist the empowerment model, feeling reluctant to give up their decision-making power. However in companies that implement this concept, the manager's role is less that of a boss and director and more that of a coach, assistant, counselor or team member. Enabling is the key to the success of empowerment, and gives workers the education and tools they need to make decisions. Without the right education, training, coaching and tools, workers cannot take on the responsibilities of decision-making roles that make empowerment work. Many high-tech and internet companies use the empowerment model.
Finding the right information, keeping it in a readily accessible place, and making it known to everyone in the firm together constitute the tasks of knowledge management, which is necessary in empowering employees. The first step of knowledge management is determining what knowledge is most important, after which the company sets out to find answers to those questions. Knowledge management tries to keep people from reinventing the wheel every time a decision must be made. Each person should ask what he still doesn't know, and whom to ask for the information. It is as important to know what's not working as it is to know what is working. The key to success is learning how to process information effectively and turn it into knowledge that everyone can use to improve processes and procedures.