A security interest is enforceable against the debtor when it has been attached to collateral.  Unless the secured party takes possession of the collateral, attachment requires an authenticated record, typically a written security agreement signed by the debtor.  The agreement must indicate that the debtor has conveyed an interest in the collateral, and include a description of the collateral that reasonably identifies the collateral by item or type.  For example, a description of "all of the debtor's property" or a similar non-specific description is insufficient.  If the collateral is consumer goods, securities, a "commercial tort claim", or if the loan is made for the personal, family or household purposes of the borrower, the agreement must describe the collateral in greater detail.  Otherwise, the agreement may describe the collateral by its type, such as "equipment", "inventory" or "accounts".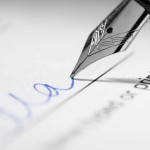 If the collateral is other than consumer goods, i.e. those items that are bought or used primarily for personal, family or household purposes, the security agreement may cover both existing collateral and "after-acquired" collateral provided that the agreement specifically states as such.
The attachment and enforceability of a security interest is governed by Ohio Revised Code Section 1309.203.
The United States Federal Trade Commission restricts the types of consumer goods which can collateralize most loans. With certain limited exceptions, the FTC prohibits a secured party from taking a security interest in most household goods, including clothing, furniture, appliances, one radio, one tv, linens, china, crockery, kitchenware, personal effects and wedding rings. There is no such prohibition on security interests in works of art, other electronic entertainment equipment, items acqured as antiques (more than 100 years old) or other jewelry. See Title 16 of the Code of Federal Regulations, parts 444.1-444.5 (2006) for additional information.